The Dock at Bayview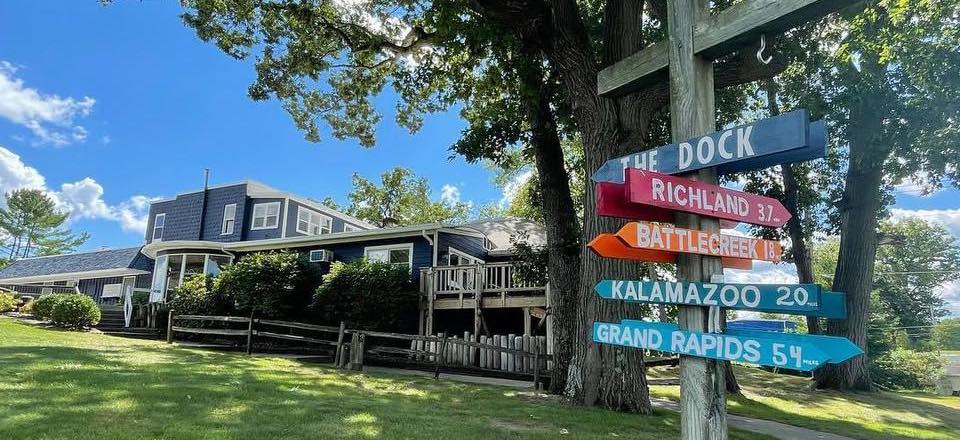 Located just off the bay of Gull Lake outside of Richland, Michigan we offer an atmosphere enjoyable for everyone. In the spring and summer months, enjoy our outside deck that offers sunsets and views of beautiful Gull Lake or in colder months enjoy dinner next to our cozy fireplace inside.

We also have a banquet room that leads into our backyard that offers a tiki hut with a full bar, bonfire pit, patio for outdoor bands, tons of seating, and two horseshoe pits. This space is perfect for reunions, weddings/receptions, graduation parties, birthdays or whatever the gathering may be. We are a casual setting and offer a full menu, live entertainment on the weekends, and much more!!
12504 E D Ave
Richland, Mi 49083
269.731.4911
http://www.thedockatbayview.com/
---
Gull Lake Marine – Bayside Pro Shop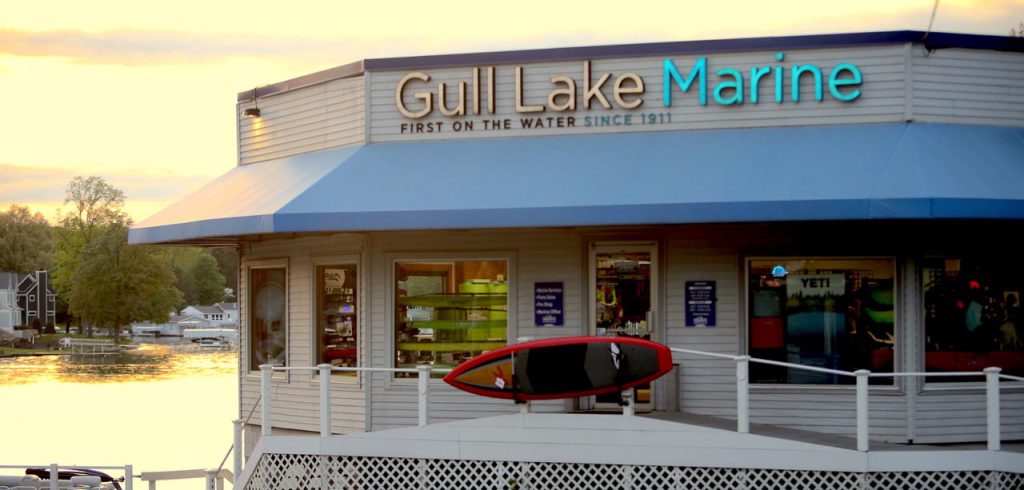 Gull Lake is considered one of the top 10 inland lakes of Michigan with depths to over 100′ and it is all spring fed with crystal clear water and a great fishing too.
Enjoy time on beautiful Gull Lake with your family and friends renting a Pontoon. Our 22′ Pontoons offer a capacity of up to 10 guests. Rentals are available in 4 hour or 1-day reservations. Our boats are thoroughly cleaned and sanitized after each rental and include life jackets, safety gear, and anchors. Toon rentals are May through September.
NEW e-bikes from Gull Lake Marine BAYSIDE! We have 10 e-bikes for full day rental around Gull Lake. Rent one or multiple at a time. The e-bikes come with a bag behind the seat to carry your essentials. Ride around the lake in comfort and fun. Our bikes are thoroughly cleaned and sanitized after each rental. E-Bike rentals are April through October
12485 East D Ave., Richland, MI 49083
269-200-2103
---
Richland Boat Sales & Service
10261 M89 Highway, Richland, MI 49083
269-629-4507
gulllakemarine.com
---
Gull Lake Ministries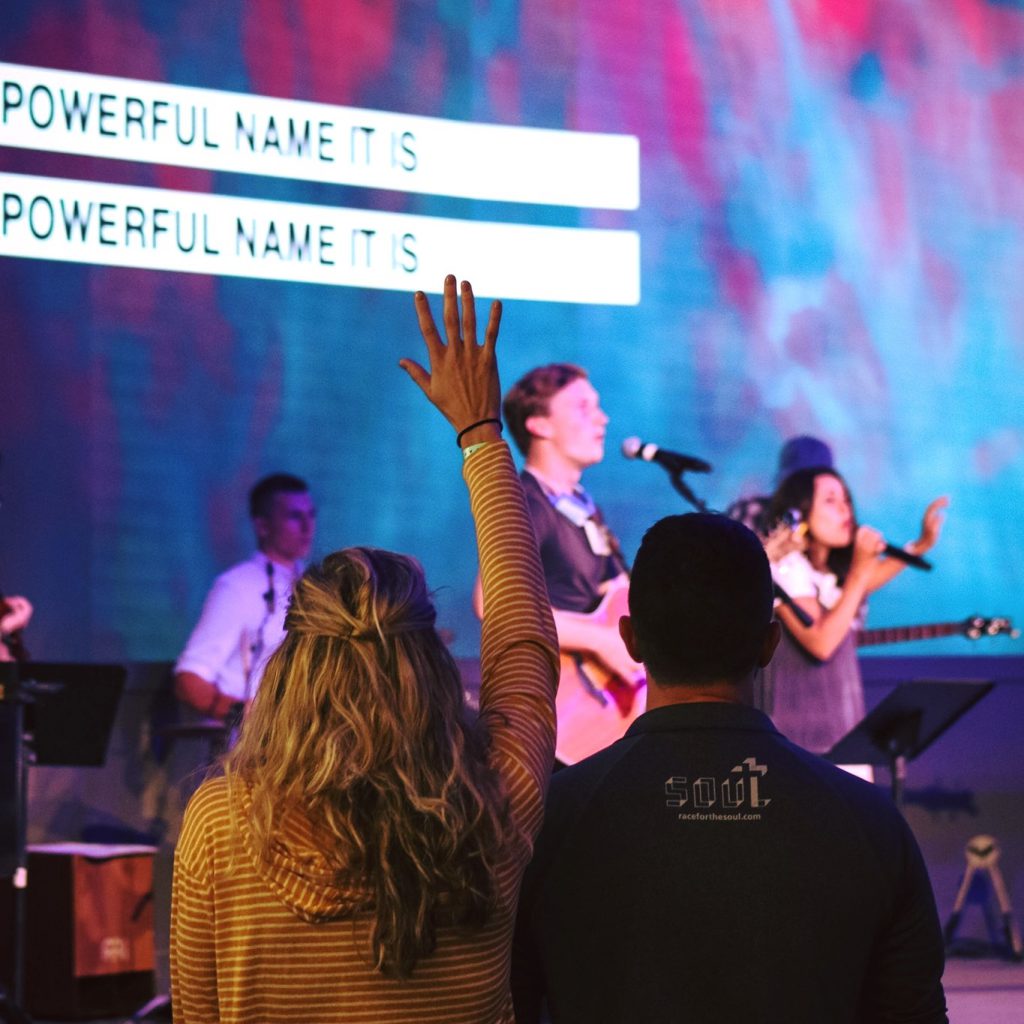 Gull Lake Ministries is a non-denominational, Christian summer resort and year-round retreat center in Southwest Michigan. With over 100 years of ministry, it is dedicated to sharing the love of Christ while providing a place for relaxation and family fun. Delicious meals, quality accommodations, and memorable activities are just part of what makes GLM so unique. During the summer, Sunday morning church service is open to the community with separate young children programs. For more information visit our website or call.
1800 Burlington Drive
Hickory Corners, MI 49060
(269) 671-5155
gulllake.org
---
Gull Lake View Golf Resort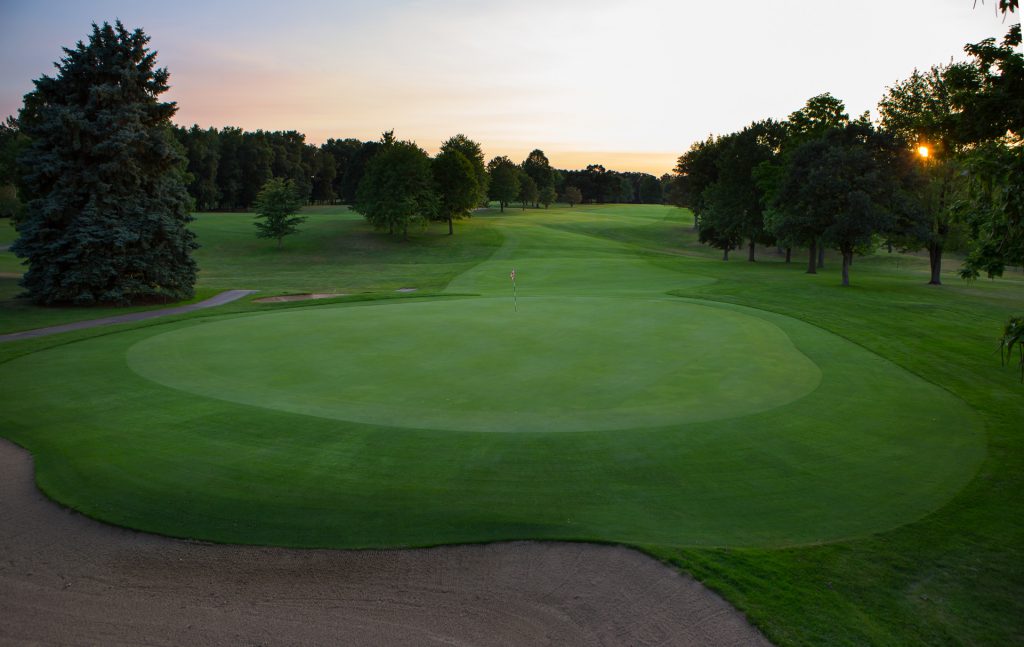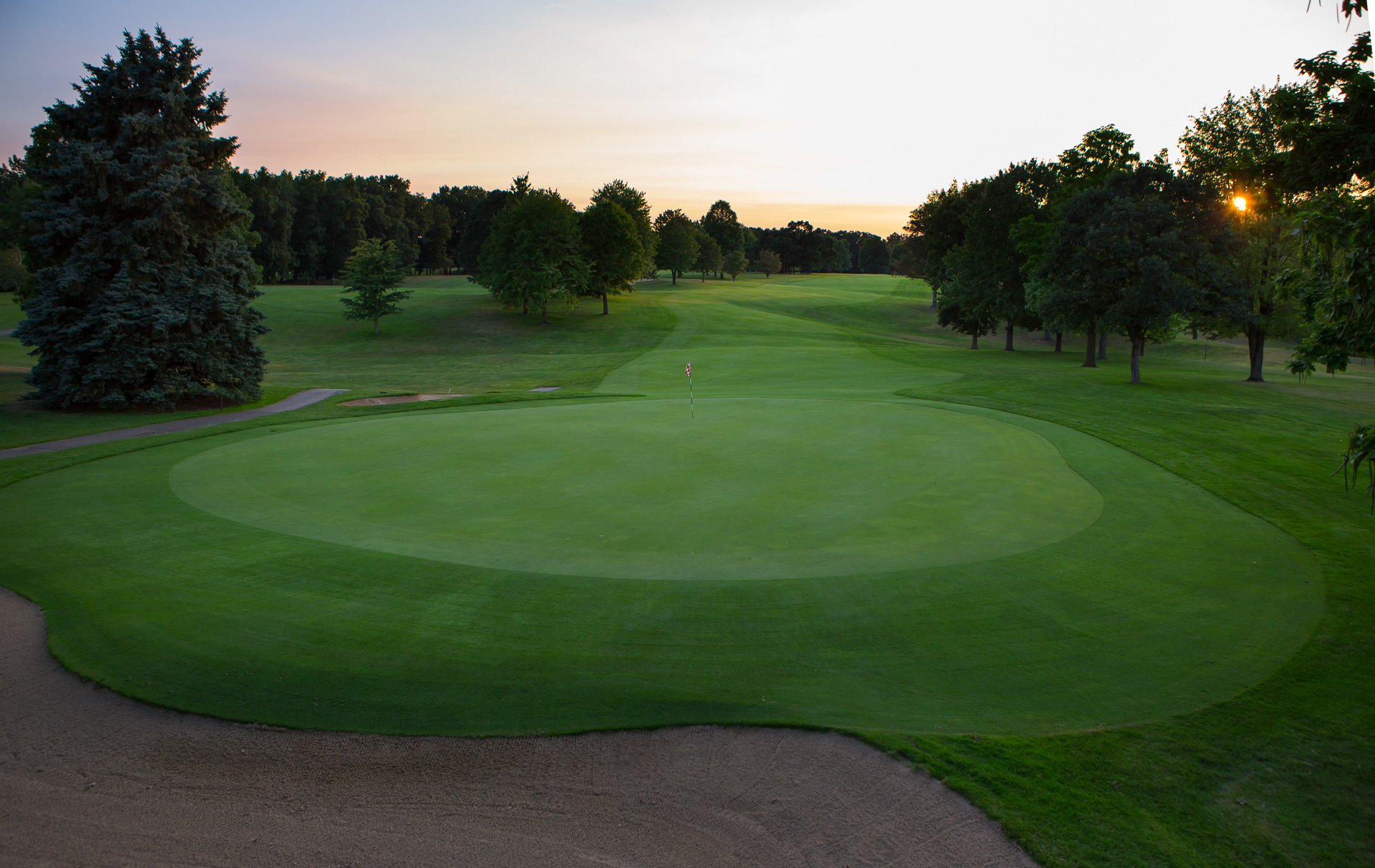 Play 18-holes a day for six days, without ever playing the same hole twice. Including Stoatin Brae, ranked top 5 in Michigan! It's no secret, Gull Lake View is the Midwest's premier, stay and play golf destination. Southwestern Michigan's idyllic lake country is the backdrop for our six championship golf courses, each of which has earned a rating from Golf Digest of 4.5 stars or higher. Designed to balance the unique beauty and terrain challenges inherent in our landscape with pure enjoyment and recreation, all of our world-class courses offer a special experience for golfers.
While we know that golfers will have an exceptional time playing our courses, our expert staff cater to your off-the-green experience as well. Whether you're taking a rest day or a non-golfer along for a relaxing vacation, we specialize in highlighting all that our resort and area have to offer.
7417 North 38th Street
Augusta, MI 49012
(844) 858-2015
https://www.gulllakeview.com/
---
MSU's Kellogg Bird Sanctuary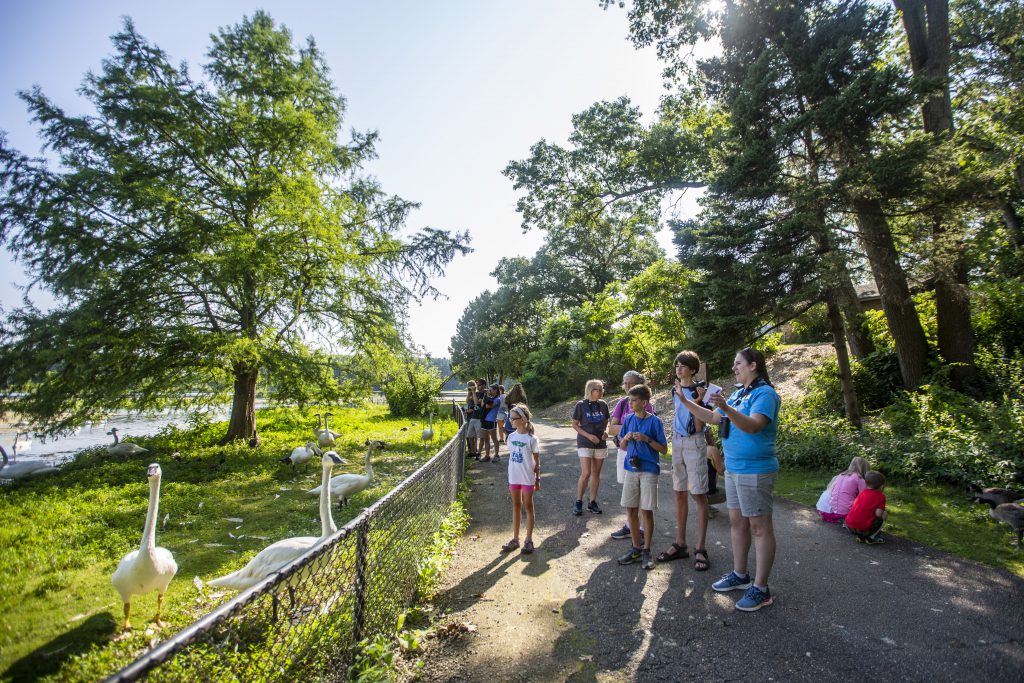 Part of MSU's Kellogg Biological Station, Sanctuary visitors can walk a 3/4-mile paved trail (wheelchair accessible) to see Trumpeter Swans, Canada Geese, a variety of duck species. Our Birds of Prey loop includes Bald Eagles, Red-tailed Hawks, Eastern Screech Owl and more. Walk the Lake Loop Trail for a longer adventure through various birding habitats. Visit our bird-friendly demonstration gardens including a Pollinator Garden designed to attract butterflies and hummingbirds.
12685 East C Ave.
Augusta, MI 49012
(269) 671-2510
Email: [email protected]
Visit webpage: https://birdsanctuary.kbs.msu.edu/visit/
Facebook: https://www.facebook.com/KelloggBirdSanctuary
Instagram: https://www.instagram.com/kelloggbirdsanctuary1927
---
MSU's Kellogg Manor House and Grounds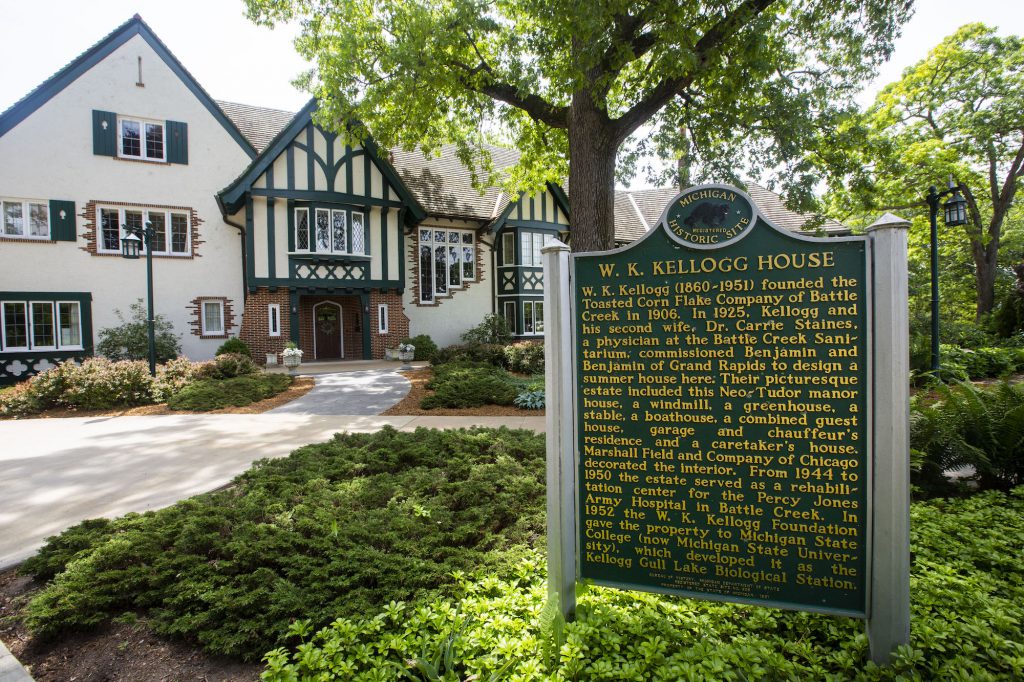 Once the summer cottage of W.K. Kellogg, located on the highest point overlooking Gull Lake, the Manor House and grounds offer self-guided tours where a story is told about a generous local philanthropist whose gifts continue to offer guests relaxation in a natural setting. The estate offers 32 acres of gorgeous grounds including champion trees, lush gardens, and lakefront views.
3700 East Gull Lake Dr.
Hickory Corners, MI 49060
(269) 671-2400
Email: [email protected]
Visit webpage: https://conference.kbs.msu.edu/manor-house/visit/
Facebook: https://www.facebook.com/MSUKelloggManorHouse
Instagram: https://www.instagram.com/kelloggmanorhouse
---
Ross Township Park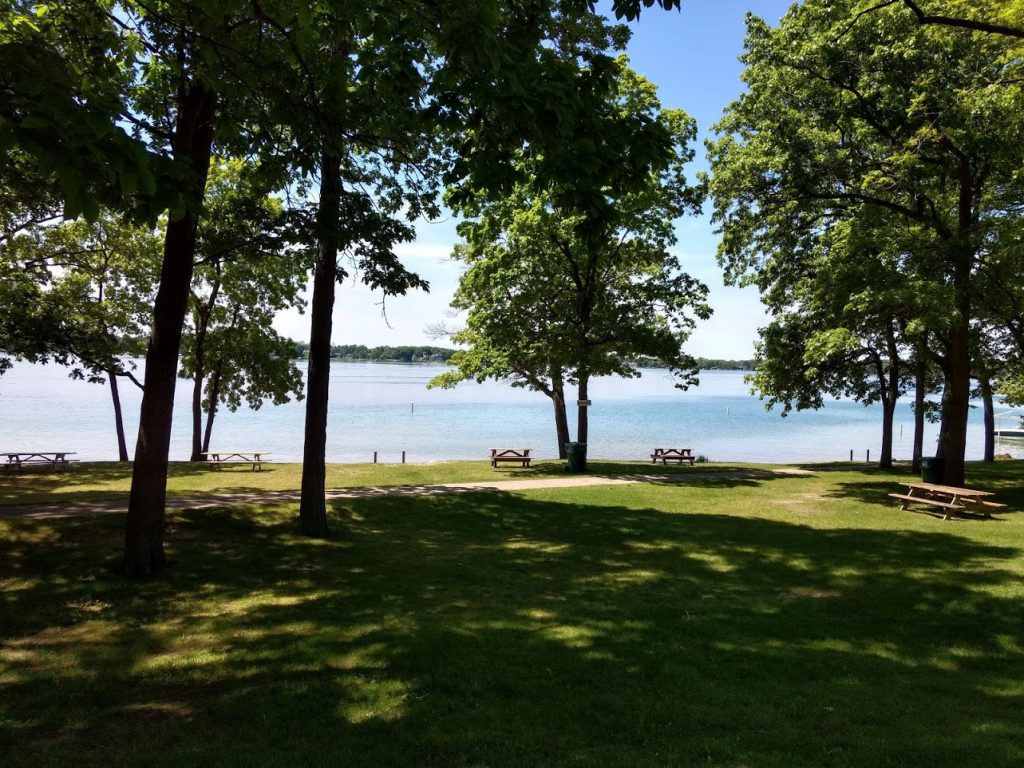 Nestled next to the Kellogg Manor House on the east shore of Gull Lake, Ross Township Park includes five acres of land featuring sandy beaches, rolling lawn and a section of woods. Open from the first of May until the end of September, Ross Township Park has the best scuba beach in Kalamazoo County. There is an extensive underwater scuba park, including climbing wall.
E Gull Lake Dr. (at Heights Dr.)
Hickory Corners, MI 49060
https://rosstownshipmi.gov/elections/ross-township-park/
---
Sherman Lake YMCA Outdoor Center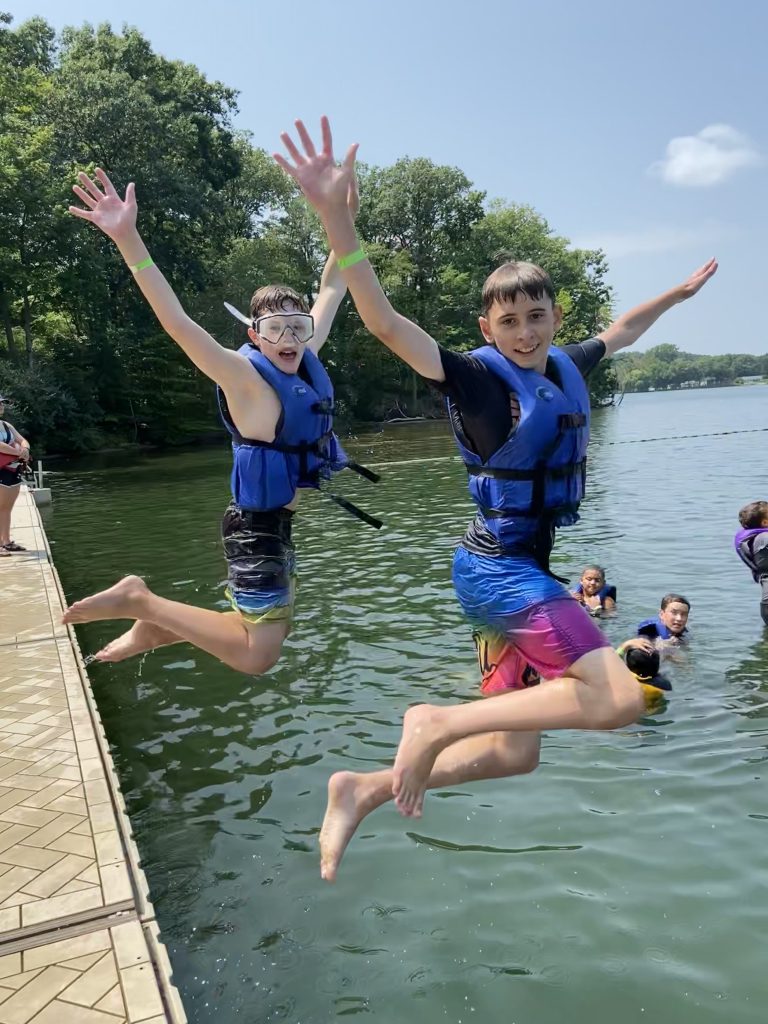 Our facilities were designed with today's children in mind. We tie together the spirit of camps of the past, with the innovations of today to make Sherman Lake one of the best summer camps in Michigan, and we believe, the country. We have 365 acres of woodlands, prairie, and pristine lakefront on Sherman Lake. Sherman Lake YMCA Outdoor Center offers unsurpassed natural beauty and an array of traditional and non-traditional camp programs.
---
Sherman Lake YMCA Austenfeld Recreation Center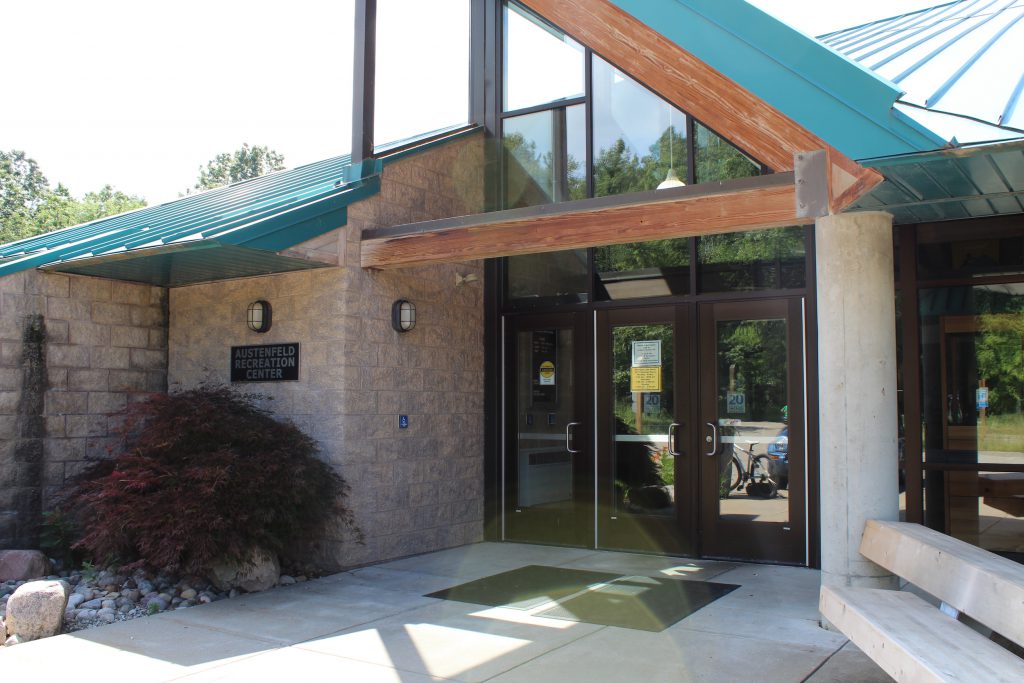 The Austenfeld Recreation Center is home to a six-lane pool/natatorium, a gymnasium with an indoor climbing wall and high ropes course, an aerobics studio for group fitness classes and a fitness center complete with treadmills, elliptical trainers, stationary bikes, weight machines and free weights and an outdoor multipurpose court for basketball, tennis, pickle ball and roller-blade hockey.
---
Sherman Lake YMCA Retreats and Events Center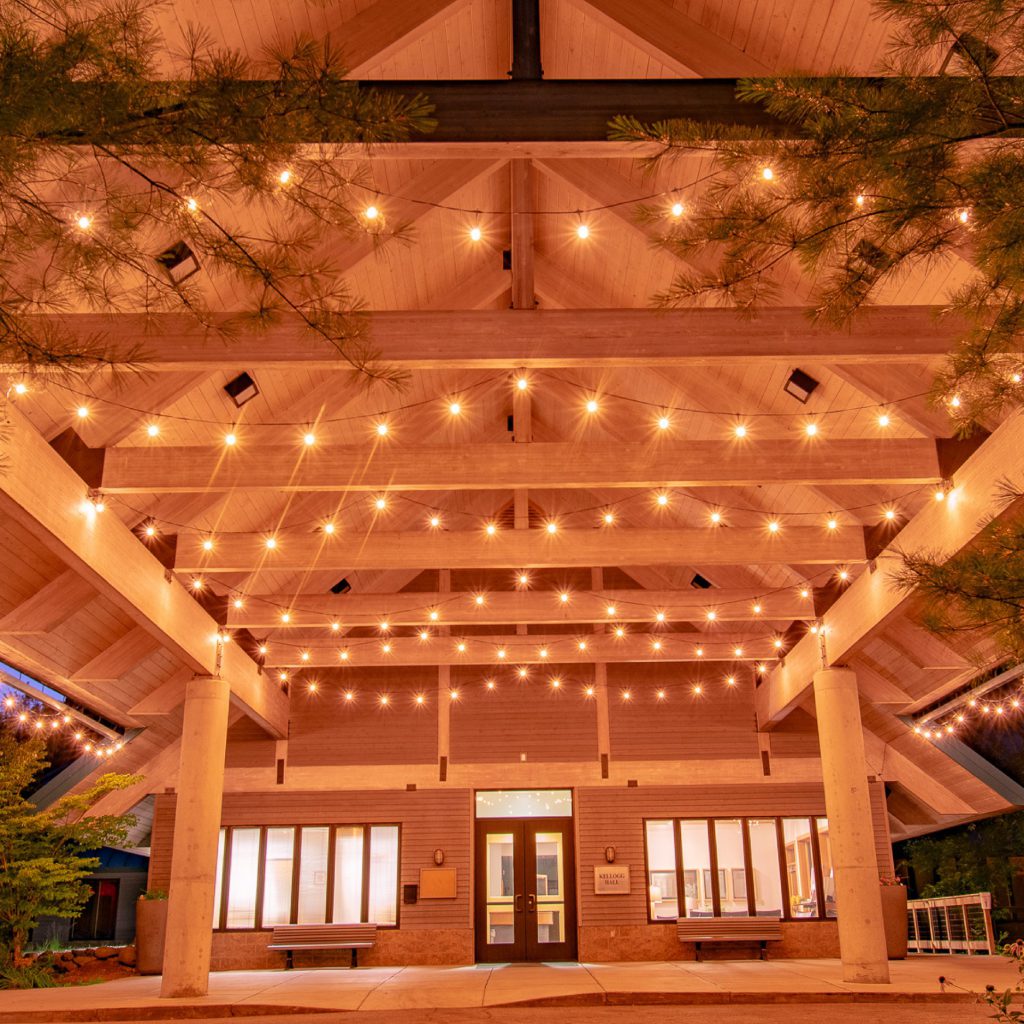 We invite you to consider Sherman Lake YMCA Outdoor Center for any of your business or personal needs. The state of the art facilities along with our beautiful natural setting makes the experience for business meetings, team building activities or weddings one of a kind.
Sherman Lake YMCA is more than a location; it's a place where lives are changed every day. Call us today to schedule a tour of any of our beautiful facilities.
6225 North 39th Street
Augusta, MI 49012
269-731-3030 or click here to send us an email.
www.shermanlakeymca.org
---
South Kitchen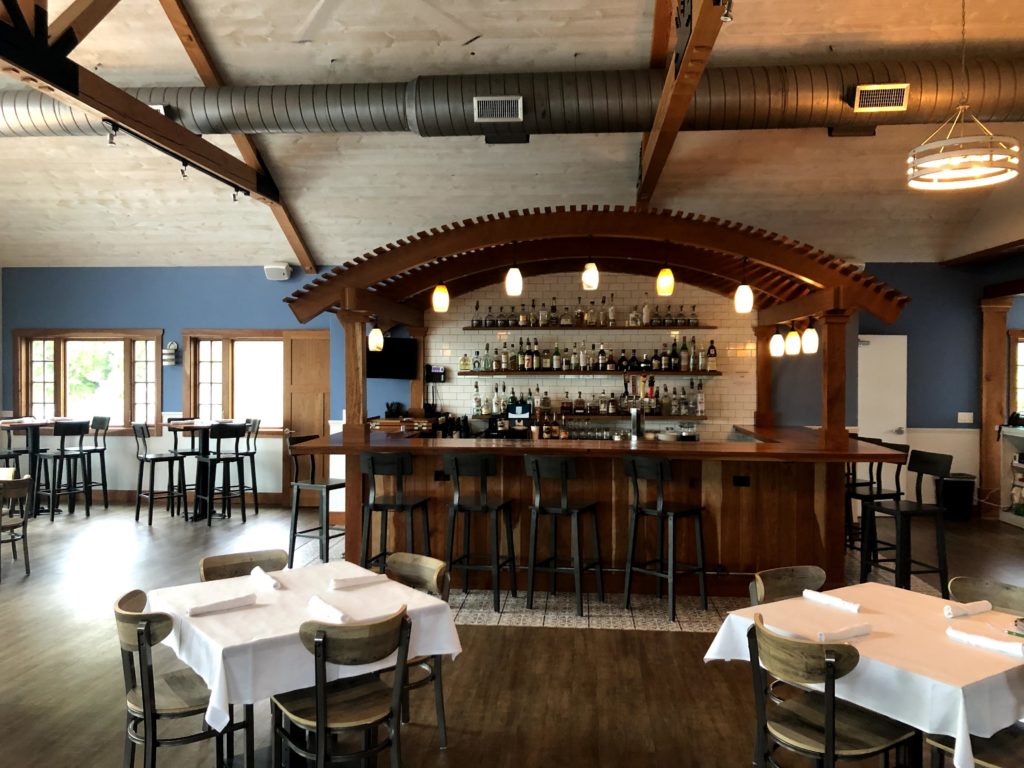 Southern inspired, coastal cuisine located on beautiful Gull Lake in Southwestern Michigan. South Kitchen welcomes reservations and accepts calls beginning at 12:00pm Tuesday through Saturday. You are welcome to make reservations as far in the future as you would like. South Kitchen also offers carryout. Call and reserve you preferred carryout time beginning at 12:00pm as well. Please no voice mail or email orders or reservations.
12454 E. D Ave
Richland, MI 49083
(269) 203-7372
https://www.southkitchenrestaurant.com/
---
Captain Mo's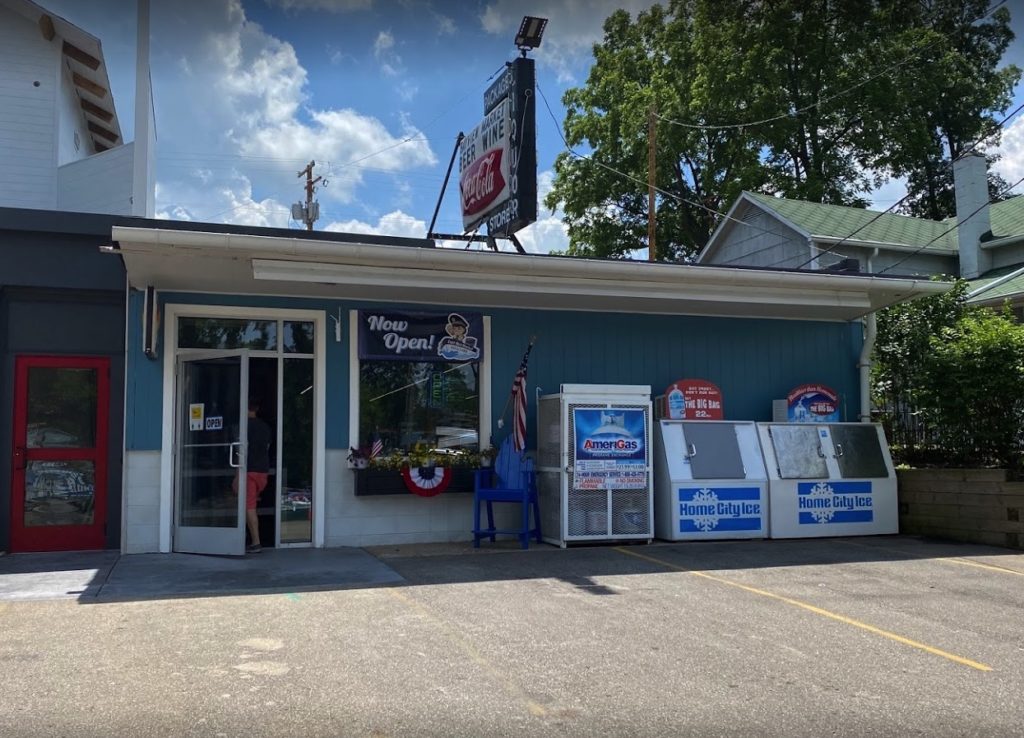 Captain Mo's Market is located on Gull Lake right near the Marina. We have a large selection of beer, wine and liquor. We also sell bait, DNR licenses, and lottery. Captain Mo's carries a variety of groceries, if you need it, check here first.
12448 E D Ave,
Richland, MI 49083
(269) 203-7696
---
Chicken House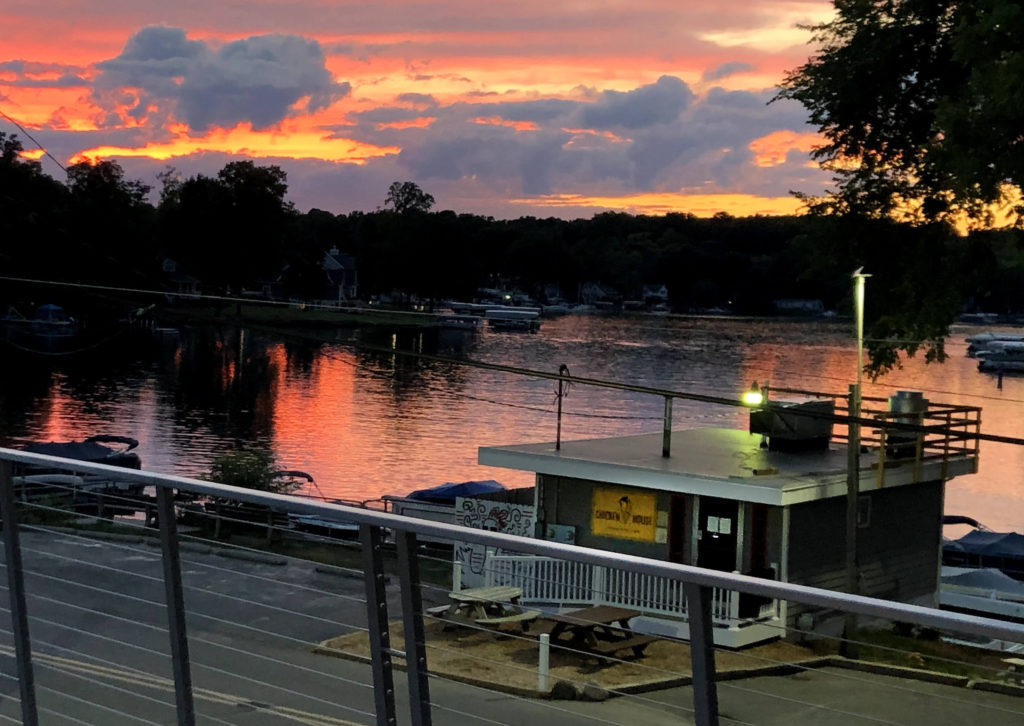 In March of 2020, Chicken House opened its funky little chicken and ice cream shop nestled in the bay at the South end of beautiful Gull Lake. Inspired by some of the true and original Nashville Hot chicken joints, our menu boasts fantastic chicken sandwiches, carve-able smashed burgers, some fun and unique tacos, and all your favorite ice cream treats. You will see Chicken House pay homage to some elements from Nashville and the South in a few of the ingredients we use like Crystal Hot Sauce and Duke's Mayonnaise. This homage circles back to great Michigan made products like our Michigan Bread Co. buns and what is arguably the best ice cream in Southwest Michigan, Plainwell Ice Cream Co. When the sun comes out, the griddle fires up, and the tunes and chicken are cranking out of our little shop, we love to say we are "just clucking around here on Gull Lake".
12443 E D Ave,
Richland, MI 49083
(269) 629-0306
https://www.chickenhouserestaurant.com
---
Teddy's Landing
Teddy's Landing hosts free live music showcasing local artists. Concerts are every Thursday night in the Summer 7-9PM (weather pending). We are located at the South end of Gull Lake.
12448 East D Ave
South Gull Lake, MI 49083
https://www.teddyslanding.com/